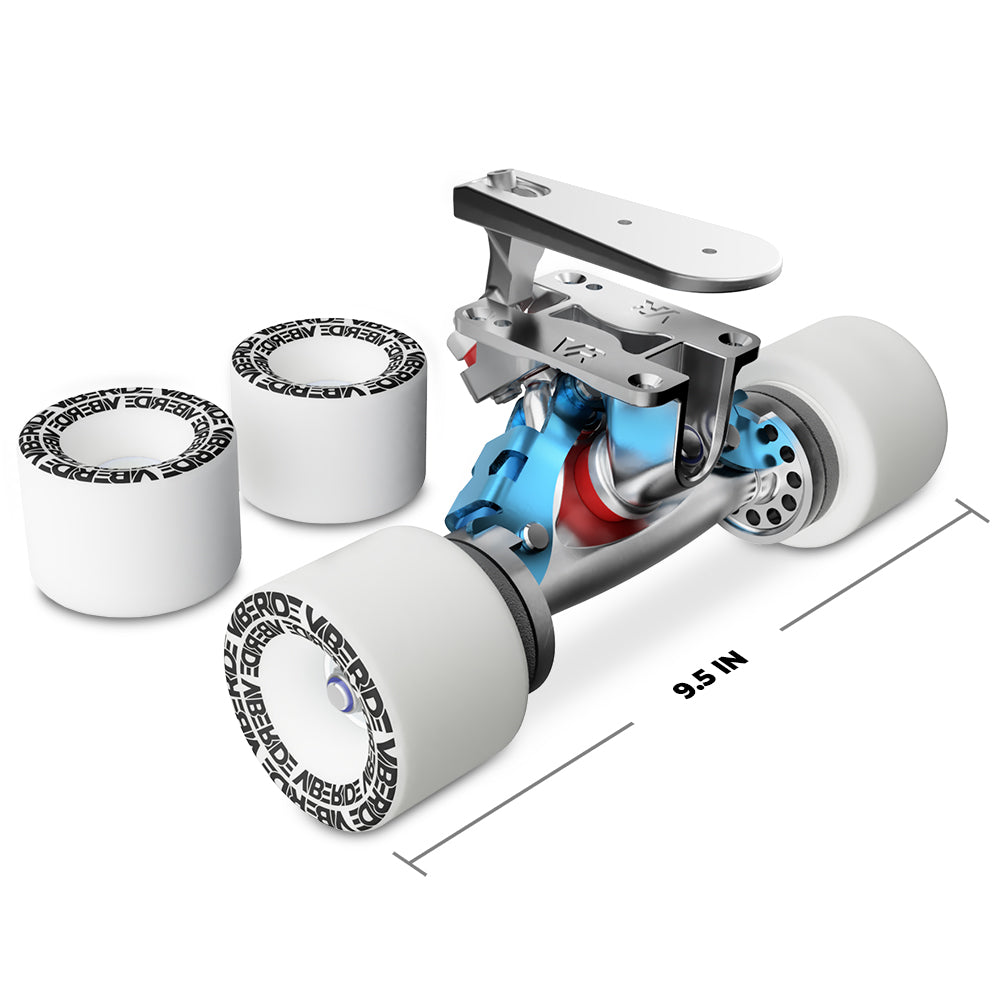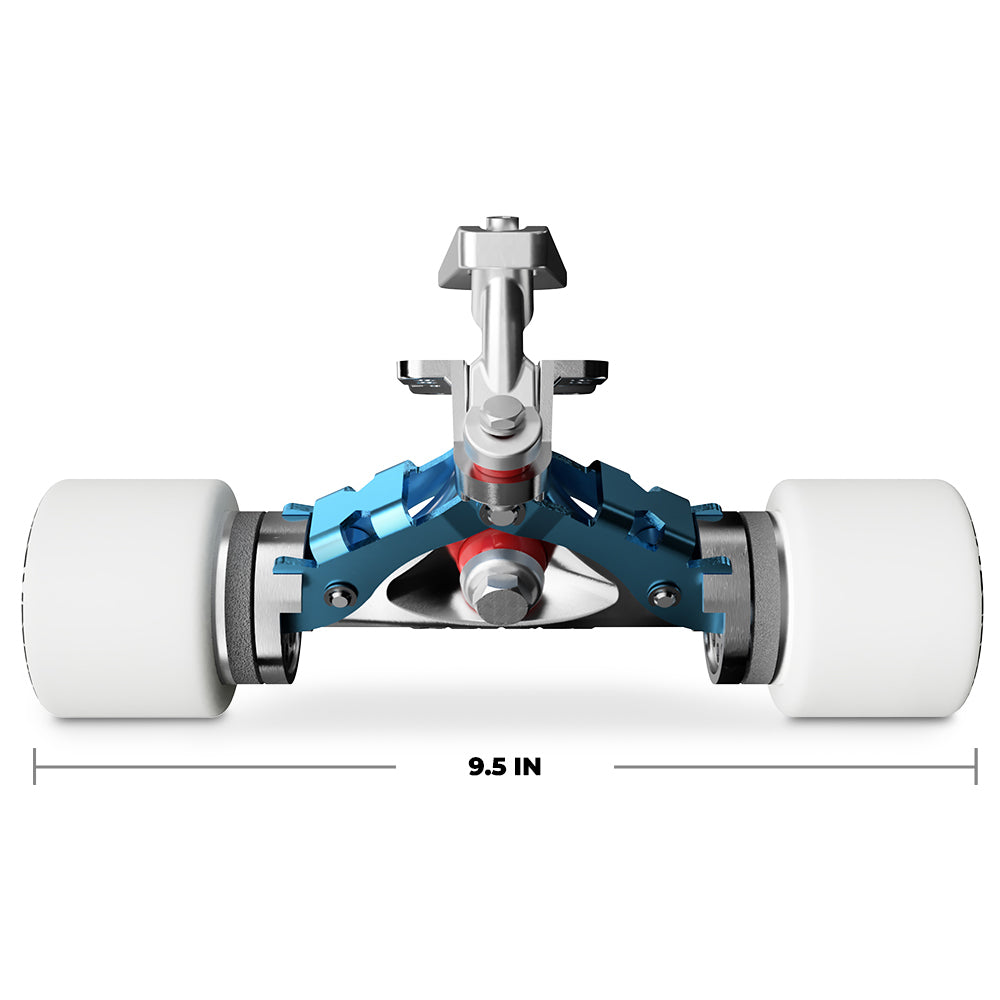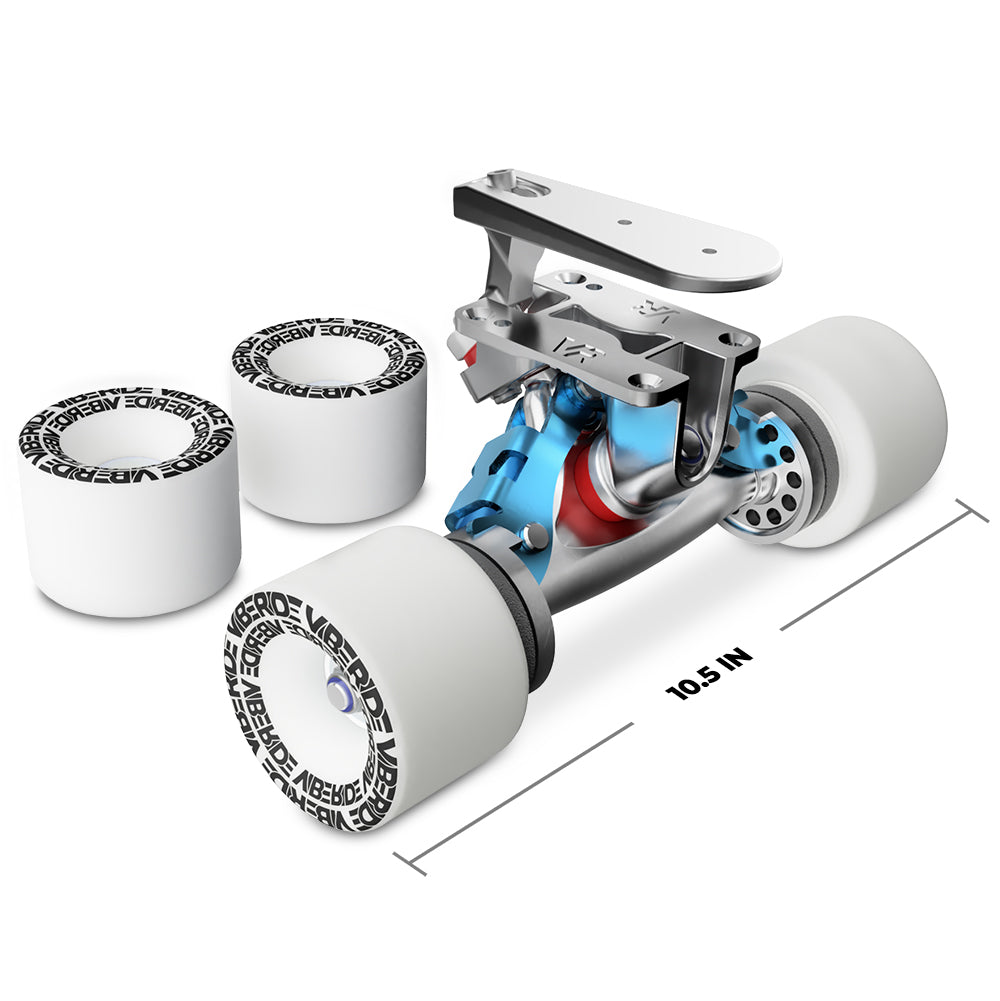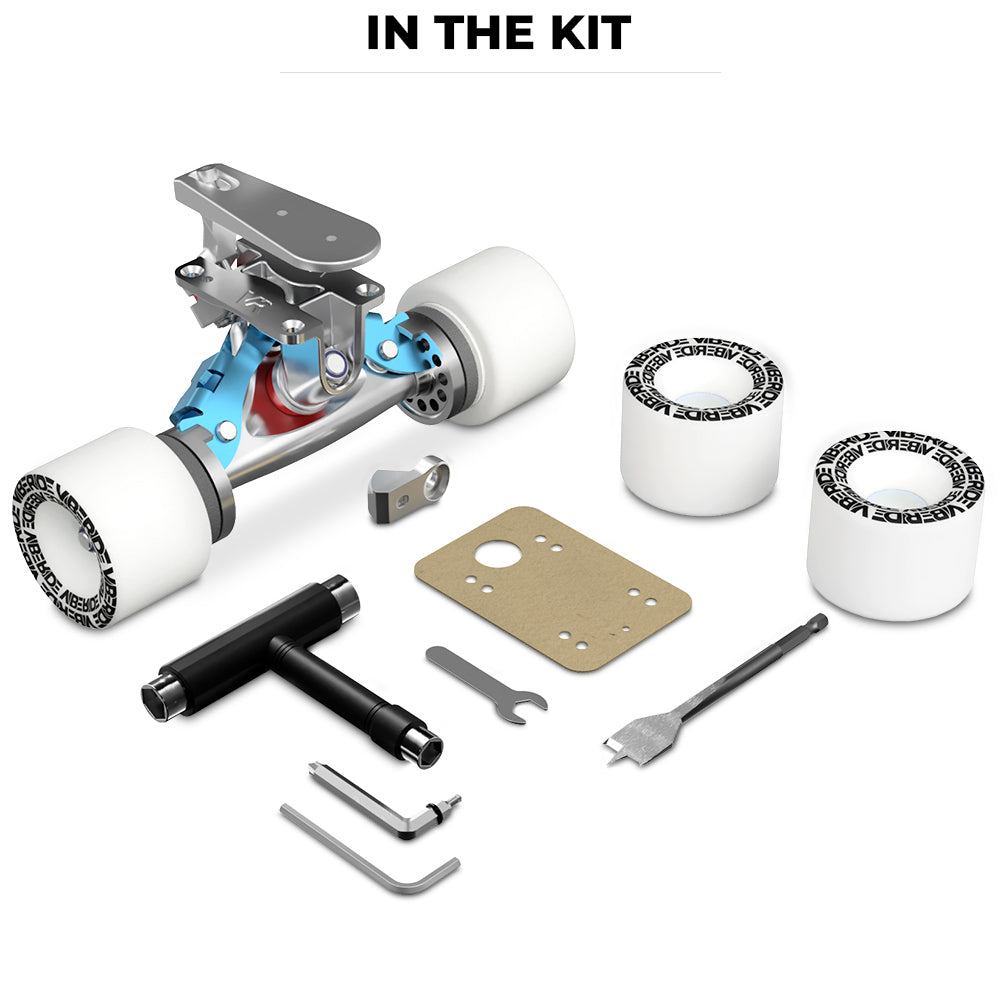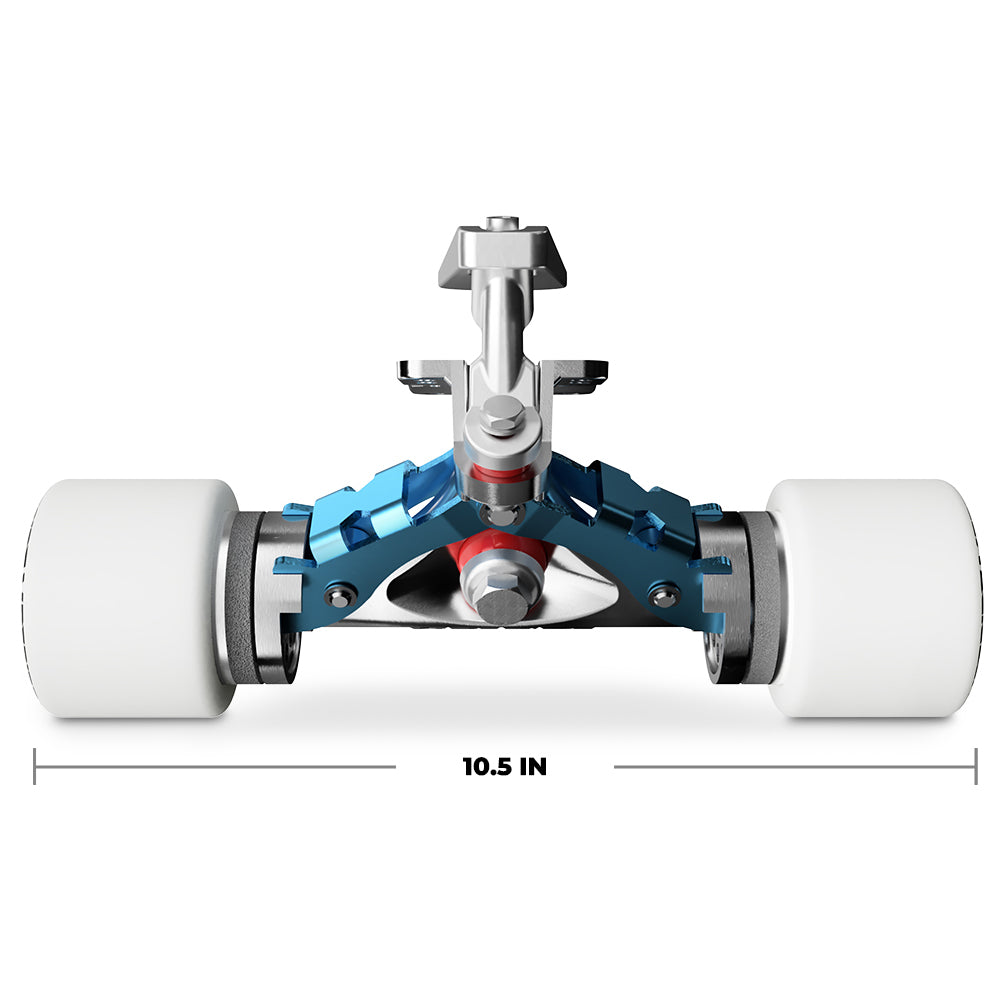 Skate Brake Retrofit Kit (Pre-Order)
---
LAUNCH SALE | $100 OFF SKATE BRAKE
FREE USA SHIPPING
---
Unsure?
Open Size Guide
Compatible with all longboard deck types.
PRE-ORDER: Ships By October 10th.
Try it completely risk-free for 30 days with free USA returns.
This item is currently on pre-order. Ships by Oct 10.
This universally compatible truck can turn your board into a Brakeboard.

Brake Specs

Our patented Skate Brake system has been tested at 50MPH+ and is easy for all skill levels. The brake uses ceramic disc pads, so it never wears down your wheel. Using the brake is smooth, it feels like a scooter brake and never puts you off balance.


Installation
In this kit, we give you all the tools and guides you need to install the brake system on your own longboard. Installation takes about 5-10 minutes in total. If you don't like manual installations, consider buying a complete BrakeBoard.
Fast & Free USA Shipping!

USA Deliveries
Standard Delivery (FREE Above $100): 2-4 Working Days Transit
Express Delivery: 1-3 Working Days Transit

Overseas Shipping
All overseas shipments are charged at cost and calculated at checkout. Transit time is estimated at 4-8 working days.
The #1 Returns Policy in Skateboarding!

USA Customers
Try our brake totally risk-free! You've got a whole 30 days to return it if it's not for you. Don't worry about return costs – we've got it covered. And we'll give you 100% of your money back, no questions asked.

Overseas Customers
While we can't pick up the tab for return shipping due to the higher costs, we'll make it right with a 100% refund if you return your item within 30 days of delivery.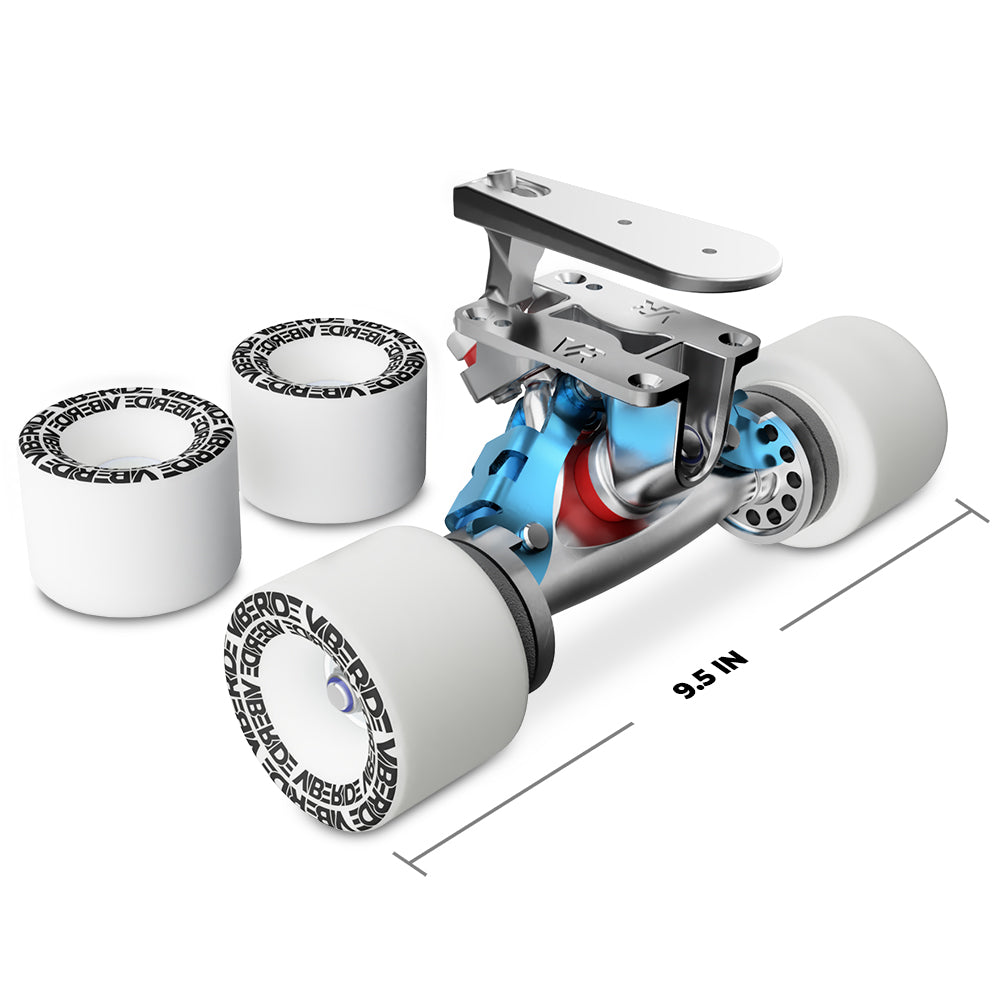 How Does it Work?
Our kit will fit over 99% of decks. If you have a super unique setup, contact our support.
1. Choose Your Kit.
Measure your boards' rear truck width.

- If greater than 10in, choose 10.5in Kit.
-If less than 10in, choose 9.5in kit.
2. Install Your Kit.
Installing our kit is easy, and we give you all the tools you'll need.

The best way to learn how to install your Skate Brake is to follow our video guides.
3. Bomb Your Dream Hills.
Easy as that, you've now got the world's first longboard brake on your board.

Next step? Go bomb those monster hills on your bucket list.
What's Included?
Everything you need to install the Skate Brake on your own board.
Skate Brake Truck
Front Wheel Set
Bearings Sold Separately
Installation Tools
Adjustment Tools
Once you try a brake, you'll never go back.
Let's Get Technical
Engineering The skate brake™
Created by skaters, for skaters - the Skate Brake™ boasts over two decades of engineering refinement. The perfect combination of durability, functionality, and style. Each component of our custom skateboard brake is carefully designed and constructed to provide reliable and efficient braking, while also ensuring durable product, providing exceptional rider feel, and ease of use. The skatebrake will bridge the gap between the severe learning curve of skating and the enjoyment we want everyone to experience!
Ride Dream Hills, Without Needing Skills.
With Skate Brake, you can ride hills of any steepness with perfect speed control - and the ability to stop whenever.
Ride Any Hill
There were so many epic hills that only pro-level powersliders could ride. With a speed control device, now all of us can go the speed we want, wherever we want.
Forget Foot Braking
Is dragging a shoe on the ground, while balancing on one foot, really the best way to slow down? Let's put an end to holes in shoes, forever.
Less Wipeouts
Catch your falls before they happen, leaving the scrapes and day-enders behind.
No Shoes? No Worries.
Forget foot braking, with a longboard brake you can bomb hills barefoot and let the dogs feel the breeze.
Legacy Brakeboard Review (Brakeboard.com)
I have searched far and wide for skateboard brakes and now I've found one that isn't a scam. I've heard SO MANY great things about the brake system, and I'm looking forward to using it on my own cruiser board.
Legacy Brakeboard Review (Facebook)
Excellent customer service, very helpful. Love the brakes. I use them on my esk8. I prefer using the extension pedal for better braking
Legacy Brakeboard Review (Brakeboard.com)
The breaks work direct in a very gentle way, without any fear of falling off. I am very happy with a board that brakes without the necessity to put my shoes on the ground every time. Using the break paddle ables me to control speed in a much better way and gives me the possibility to keep better sight on trafic around me.
Legacy Brakeboard Review (Amazon)
Quite possibly the smartest purchase I have ever made! This thing is brilliant! I can't wait for these guys to blow up on the market because they deserve every bit of it! Thank you guys sooooo much for making such an ingenious device! This has made my commmutes so much better and safer and saved be a ton of cash on replacing shoes! Hahaha!
Legacy Brakeboard Review (Facebook)
Think these are a great idea! Big Hills, Big Thrills, No Spills!!!
Legacy Brakeboard Review (Facebook)
Ok so after a major crash & 4 weeks off the board my new bakes are now installed. Holy **** these things are great. At 47 I don't have the flexibility I used to so thanks guys for creating these. First day out today....